The Windsor
I no longer remember the reason
why I first practiced
my awkwardness in the bathroom mirror
or walked out into
the living room for them to admire
my mastery, and yet I have not forgotten
how to tie the double heart
beneath my throat, but I have learned
to unbutton my collar,
to loosen the knot, and to breathe.
• • •
Them There Eyes
1
How easily they opened and closed.
So light they were it took
our parents saying, "Now close your
eyes, Little One, and go to sleep,"
many many times.  And "Is anybody
in there," many many more,
before we knew what we were to do–
shut off the bedside light or brighten
up the room with a morning smile.
For them it was as if they were opening
and closing windows of a new house–
wanting to see if everything worked
before they'd signed the papers
with confidence they could pay off
the second mortgage on our childhoods.
2
How heavy our eyelids are with old age,
but not with that heaviness that leads to sleep.
They've become like those double-hung windows
of old hotels converted into Rooms for Let,
in which we've taken the corner room on the fifth
floor because of its unobstructed view.
And on the hottest day in mid-August with no air
conditioning and only a squeaky, rotating fan,
we've pushed with all of our elbows might
to open those rain-warped windows a few inches
and propped a pile of hardcover novels–
spine out–beneath one that kept slamming down
and disturbing the dust of our conversations
with ourselves.  Someone else will have to close
that one for us–remove all those best sellers
we meant to read–and let it slam shut for good.
• • •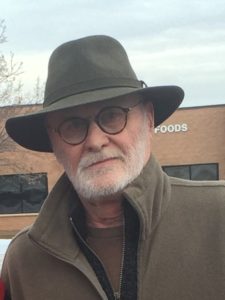 Chet Corey's poetry has most recently appeared in Evening Street Review, Hummingbird: a Magazine of Short Poems, Shark Reef, St. Anthony Messenger, and Talking Stick. Chet lives in Bloomington, Minnesota.