You Know Your Brother in Your Bones
One o'clock. Dirt on the pane.
I fetch Windex and a soft cloth.
Autumn colors blaze beyond—
a slight stirring of umber and ochre
as when a thought ruffles through.
Time gutters; glass, the bank of trees, recede.
Thoughts of you, my youngest brother,
far away in England, crippled by slipped discs,
lying in a dulled haze of pain, daylong,
surviving interminable nights, your life, wasting.
Memories of stacking logs together, birdwatching
in the reeds beds of Mote Park, beech trees
ablaze with autumn. Time slipping between us,
Windex in my hand.
•••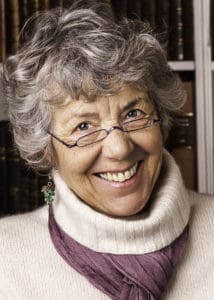 Elizabeth Weir grew up in England, lives in Minnesota and served as her city's mayor. Her first book of poetry, High on Table Mountain, was published by North Star Press of St. Cloud in March 2016. Her work has been published in many journals, including Water ~ Stone Review, Comstock Review and in Holy Cow! Press anthologies. She received four SASE/Jerome Awards to study with poets Richard Reichard, John Caddy, Deborah Keenan and Todd Boss.