Seesaw
memoir
I was in Boston on a business trip, pregnant with my son and traveling with my husband. I retrieved my voice mail messages from the hotel room so I could learn the results of my amniocentesis, a test I didn't want, but my doctor encouraged after learning a blood test—a marker for genetic disorders—was out of range.

Beep. The preliminary results are normal, with a 99% ratio of accuracy. The final results will be available in two weeks.

Beep. Your mom has wandered off. A woman recognized her alert bracelet and called us.
A moment of joy replaced by a moment of despair would be the cyclical nature of raising my infant son while caring for my mom with Alzheimer's.
When my son was born, Mom came to the hospital with my in-laws. "Look! Look at his lips. They are so tiny," she said as she placed her thumb and index finger together to form a comparable tiny space. His day-old body was swaddled head to toe with one pink foot protruding, the foot with an identification tag like the identification bracelet used to safely return my mom.
My motherhood was a day old and I experienced a new desire to be both a good mother and a good daughter. My mom was also celebrating day one as a grandmother. But on this first day for all three of us, I realized I would have to make choices. Some were easier than others. I wanted my mom to hold my son. I wanted her to feel like she did when she held me thirty years before. But she was at the point in her disease that she barely remembered to bathe. Her aide managed to get her in the bath once a week, but even then, Mom would insist on wearing the same sweater, until we resorted to hiding her dirty laundry. As I played out the visual of the two bonding, the image of bacteria jumping from her sweater to his day-old skin obscured the moment. I wasn't even certain if bacteria jumped, but in my mind they did.
"The doctor says we can't hold the baby yet." She just smiled and continued to look into his bassinet focused on those tiny lips. In the twenty-minute visit, she repeated the phrase a dozen times. And while they were indeed tiny, I thought she would have noticed his full head of Beatle's-like hair and his deep blue eyes. But after nine months of wondering if she even understood that I would be giving birth to her first grandchild and after twenty-eight hours of labor, her repetition resonated like poetry.
At 18-months old, my son developed a 105.6 fever and sores in his mouth. Three days later my mother vomited a liquid mess as an ER attendant peppered me with questions on her medical history. I answered while I held the kidney-shaped basin watching without repulsion because somewhere in my neural network I remembered throwing up and Mom holding a rag on my forehead assuring me I would feel better soon.
My son's pediatrician thought it was a viral infection. No antibiotics. Twice we took him to the doctor's office. On the third visit they sent us to the ER, although us was just my husband. I had been fielding calls from my husband as I checked my mom out of her latest hospital stint. As soon as I settled her at home with her aide, I jumped in a cab and sped to the pediatrician's office just in time to catch my husband placing our lethargic son into his car seat ready to drive to the ER. My husband could only manage a look that shouted "Where Were You!" In those years, he could not comprehend the choices I made, sometimes placing my mom's needs ahead of my son's. "She doesn't even know you are there." Perhaps she didn't. Perhaps she had no clue that I was her daughter. But I WAS her daughter and I still saw her eyes sparkle when I leaned in for a kiss.
When we arrived at the ER, I took over. After all, Mom's hospital visits, four in the last two years, had prepared me for this. My son was eventually diagnosed with pneumonia but not before they extracted tube after tube of blood. Each time the needle entered his tiny veins he became hysterical, crying  "Anthony go home, Anthony go home." He spoke what my mom could not.
Before she was confined to a bed, I planned a visit to the local playground: Mom, me, and my son. It is a typical city playground – concrete pavement, a few trees, and a backdrop of Brooklyn's elevated trains just beyond the swings. It is the park where my mom and her friends celebrated our childhood birthdays. There were no fancy invitations or venues. We played in the sandbox, challenged friends to swing higher and faster, and sought out a seesaw partner who wouldn't bounce you off the board. After playtime, Mom would layout the cupcakes— Duncan Hines yellow cake topped with chocolate icing—on a park table, which would conceal the checkerboard pattern painted on its surface. The kids would make a circle and sing a roaring round of Happy Birthday.
These vivid memories flooded in as I placed my toddler in a swing. Mom stood in front of him mesmerized by his giggle. "Where's Grandma?" I asked and he held his index finger out to point to the figure that was a ghost of her former self. Yet, he didn't know any other. This was his grandma. And what about her? Did she realize this was her grandson?
In a few minutes I sensed her weariness; her face was drawn, her body slouched, her eyes no longer mesmerized by my son's movements. I wondered if someplace in the cobwebs of her brain she remembered the first time she pushed me on a swing. I lifted my son from his and we moved to a bench. An oak stood tall and in its bed of dirt pigeons strutted amongst the rocks. My son watched from his stroller, Mom from the bench. They tilted their heads in unison curious to understand the quirky movements of pigeons and their relentless search for crumbs. And as strange as it felt, I realized she was like a child, my child.
But her skills moved in reverse— she slowly lost the ability to walk, talk, and eat solid foods as my son developed these. I took solace in feeding them together: him in his high-chair, her in her wheelchair. They both loved mashed sweet potatoes—just the right speed for a young toddler with a handful of teeth and a 70-year-old forgetting the basics of chewing. His eyes sparkled the moment the sweetness hit his taste buds. Her eyes opened wide when she saw the spoonful coming toward her. Each anticipated the spoonful of mush with an expectant joy, each had no patience to wait for the other. They both lapped it up as if it were their last supper. Her helpless state helped to erase the anger and frustration that I'd felt at her, at this disease, at God. I understood the only thing I could do for her was the only thing I could do for my son, love them unconditionally.
Some days I felt like a proud parent to both of them. When my son began eating solid foods, he banged his fists on his high chair tray as he impatiently waited to gum his strained carrots. He would sometimes grab a glob from a plate that I had unfortunately left within his reach and throw it on the floor, and just when I had finished cleaning up the mess, he would spit the partially gummed carrots in my face. Of course I was annoyed, but there was a part of me that was proud, proud that my son was a feisty little guy. In this, Mom and my son were alike: When an aide first arrived on the scene, Mom was not at all pleased—she slammed doors, ran out of the house, screamed at me and the aide. And while I was upset, I had to admire her fight to hold on to her independence.
As her dementia deepened, I struggled to find things that interested her. In contrast, my son seemed fascinated by the simplest things: banging the bottom of a saucepan with a wooden spoon, pushing a toy train across the tile floor. I took my cue from my son who demonstrated a love for music at only a few months old. I picked out Frank Sinatra CDs and played them when I visited Mom. I placed photos on her nightstand and propped her up with a pillow so she could see them: photographs of my son and family photos of when we were younger, happier, living without the weight of Alzheimer's on our lives. Yvonne, my friend from volunteer days at an Alzheimer's respite program, recommended dolls. She even gave my mom the dolls her mom played with before she lost her to the disease. One day I decided Mom needed new dolls, and so I shopped for a child's doll, selecting one with a pink and white dress and curly yellow hair. Soon Mom had a repertoire of dolls that seemed to make her happy. She held them in one hand while using her other to outline their features, her seamstress hands knowingly stroked the fabric, sometimes rearranging bows or ribbons to her liking.
Then she became mute. One day she answered my question "How are you?" and the next day she didn't. The silence became deafening, but somewhere there was still a path through the plaque for her motherly instinct: When my son tossed a ball and was about to stumble she screamed "Watch out!" and extended her arm from the armrest of her wheelchair trying in vain to reach him before he fell. It was the only thing she had said in months and it was my turn to be speechless.
In the four years my son and mother shared together, it was their connection that made me the happiest. She seemed enraptured by his every move. I encouraged my son to kiss her hello and goodbye and when he did she smiled broadly from deep within. Sometimes she even puckered her lips to kiss back. For his part, he was not concerned that she could not walk or talk. He pressed the play button on his dancing Elmo proudly holding out his latest toy for her to see. She took it in her feeble hands and gave a nod of approval, as if to say, "Wow, this is really cool," and when he shook his body in time to the music, her far-off gaze disappeared and in its place her motherly soul momentarily returned.
• • •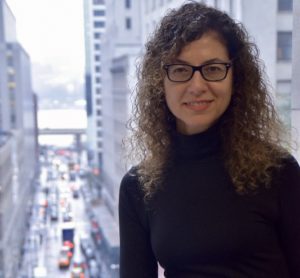 Maria Massei-Rosato holds an M.F.A in creative non-fiction from The New School and a B.S. from New York University. She has taught poetry workshops for adults and children with developmental disabilities and currently teaches a yoga/writing workshop at Sewall House in Maine. Her most recent work has appeared in Poets & Writers Magazine and Brain, Child Magazine. She has completed a memoir, which was selected as a semi-finalist in the William Faulkner Creative Writing Competition and she completed a screenplay, a tale of two journeys: cycling across the country and caring for her mom through a debilitating illness. It conveys what she learned along the way: Life requires strength in the face of adversity, patience when confronted with a challenge, and faith when all seems lost.