Someone
tell me
to ignore the evolving curiosity to attend
The Minneapolis Gay Men's Support Group
for dudes in the process of coming out:
tell me
it's neither fabulous nor fun:
tell me
to stop crossing off with a red pen
the week leading up to the first meeting
from my 365-days-of-bravery-calendar:
tell me
no hot gay goes out on a Tuesday night:
tell me
to wear dark apparel, vermillion times
droop, throw on labor-boots, don a
Potter-beard, spritz HULK cologne
from the Dollar Tree:
tell me
being twenty-seven merits cooler titillation:
tell me
to drive past the dilapidating red-brick
building with feminine-font lettering
accosting the manufactured front door:
tell me
paying for meter-street
parking is too straight-laced:
tell me
to run away after I glance in the
room at twenty-one emphasized
haircuts sitting upright and round:
tell me
this is not the kind of circle jerk to
which I've grown accustomed:
tell me
to sit anywhere but across his polo-
tight torso and demiurge face:
tell me
to not tear up when he conflates
DNA and orphan with less:
tell me
to stop chanting his name on the drive
home, over and over and over (and over)
tell me
of the enjambment in his smoothness:
tell me
of the chamber madness in his glands:
tell me
of the slow drag in his self-regard:
tell me
of the colorlessness in his rainbow:
tell me
following him with uniform-routineness
will make me weak-jawed and cross-
eyed and land-lost a bazillion times over:
tell me
he is not coursing a path to authenticity:
tell me
he is not gooseflesh across my skin:
tell me
he is not bath salt and candlelight and
urge and ocean and arrows and ass
and ten toes wiggling in the morning:
tell me
he is not gravel yawn peeing on the
toilet seat and a cliff at the edge of a
canyon sitting at the kitchen table
staring out the window like wet fog
trapped inside his father's raincloud.
• • •
San Bernardino & Paris & Turkey & London & Belgium & Orlando & Me
I'm frightened, quivering as media-mania
news coverage touts damage and death,
reporters stalking the scene for tag-bite cash,
anchors sensationalizing viewership ratings,
perpetrator's fame scrolling across TV screens,
victims blood covering the pages of People magazine,
silent prayers filtering through Facebook & Twitter
while Reddit breaks down and watercoolers stay relevant.
Foreign-ill becomes the street on which we live,
the café in which we eat, the concert in which
we sing, the stadium in which we cheer, the church
in which we pray, the bar in which we dance,
the planet in which we frack, the sky in which
we pollute, the heaven in which we ask God
to choose our side and bless our cause.
Now is the era of radicalized dogmas
disseminated by zealot extremists who wield
a love of hate so utterly encased in bullets
and banks and beheadings and bands,
murder has ruined my faith in the middle.
And the east. Crime ties races and stars
to livestock and trees. And convention.
Whoever breaks a circle destroys its link.
Al-Qaeda sounds like a children's party host.
ISIS is two helping verbs working side by side.
Fallujah rhymes with Hallelujah. Nice is nice.
Why do the names Syed and Abdullah and Omar
and Hussein threaten me more than the names
Timothy and Jeffrey and Charles and James? How
do U.S. drones in tribal lands prove nationalism?
Does military hypocrisy only apply to communists?
Is the ground on which I drive more sacred than the
cell from which we all arrive? Is peace a pun?
Is goodwill the pen name of Platonic criticism? Is
solidarity the dream only naïve dreamers dream?
Fear has me looking behind my back. At the library.
Leeriness quickens my pace. At the barbershop.
Cynicism rolls up my windows. At the stoplight.
Mistrust deviates from the plot. At the movies.
Xenophobia wrecks collaboration. At the core.
Stay away from crowds. Avoid the seven wonders.
A smoke grenade can be made in a kitchen.
A pipe dream shares history with a pipe bomb.
Every face is suspect. Sunglasses times two.
Every lip that frowns spreads camouflage doubt.
Every backpack, even polka-dots, is a tomb
for knives, guns, nooses, drugs, cuffs, bombs.
Every purse. Every gym bag. Every envelope.
Every mailbox. Every courthouse. Every Arby's.
Every water bottle. Every candy bar. Every scarf.
Every pill. Every cell phone. Every computer.
Every chair. Every shoe. Every pocket. Every cross.
Every pastor. Every prophet. Every door. Every key.
If someone pops chewing gum, I cringe.
If someone cracks a knuckle, I wince.
If a child screams, I sprint the other way.
If an adult cries, I cower behind a child.
Goosebumps and hair-raise are not in decline.
Most windows are not ammunition proof.
Security codes and clearances can easily be hacked.
What does WIFI really mean, really do, really say?
Civilization can absorb only so many acts of war.
Perhaps humanity's self-annihilation is what
the earth's crust has been burning for all along.
• • •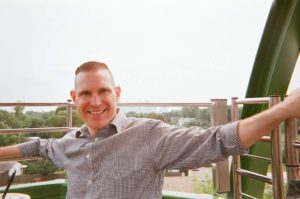 Samuel Cole lives in Woodbury, MN, where he finds work in special event management. He is a poet, flash fiction geek, and essayist enthusiast. His work has appeared in such literary journals as Pomona Valley Review, Pure Slush, Heart Online, Foliate Oak, Literary Orphans, RFD Magazine, and Blackheart. He is also a prize-winning card maker and scrapbooker.