The Family Album
Over the years, so many days;
who can remember them all?
Walls bulge, windowsills swell
with the past. Children, popped
from the same, small pod, fly off
in different directions to work,
marriage; work, death. Goodness,
into closed closets!
There's always the book, the drawer
that exists to be opened. And hands
of girls, comely, or only comely
in the dark, passed on in marriage
like the deed to the family cabin.
Think needlepoint. Think green
and blue stitching. On the wall,
framed, Old Aunt Tamar's saying,
The first place he enters
is your arms. All your battles
take place on the bloody plain
between your two dusky legs.
• • •
Three Bison
About their snow-speckled heads and legs:
in imitation a dancer dots his face white.
An artist paints a white and brown winter.
About their horns:
envious, an egotist adds to the centuries' closets
crowns, wreathes, miters, head dress.
The slaughterer admires how a horn rips through
hide and flesh, how hard his own blade
must drive to reach a bison's gut.
About the hidden stomach, like the aurochs'
40,000 years ago: it hungers for the wild
grasses sprouting under snow, under hoofs.
The waiting, the plodding across clearings,
the fear of slaughterers, of blood: What
I, too, know of hunger and thirst and longing.
• • •
Vespers
The censer swung like time shifts; if time had legs,
from one foot to another, joggling back and forth
while I sat last year, singing and watching. The Queen
was pregnant, her belly a globe, her breasts, milky knolls.
The King napped or hid behind king-like references
that dissipated down the basilica's halls
in bursts of spicy, flowery fragrance. Continuity
was a little group of believers who sing the same story
for two thousand years to the Virgin's ivory statue,
the new music wonderfully old on this late afternoon.
This as in two years ago or five hundred.
Late as in tones clustering like supplicants.
Afternoon as in the way a woman picks up her house
after company leaves, and ancient time slowly
squeezes into a new year. –The church's door,
a dark brown metal barrier one pushes open,
was the gate from the outside to the inside dream.
• • •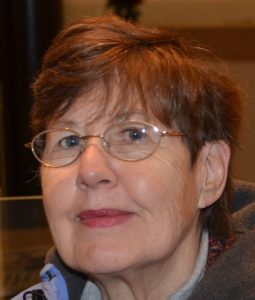 Sharon Chmielarz's poems' subjects include women, history, family, and the prairie.  She's had ten books of poetry published; the latest, The Widow's House, in November, 2015.  It was a finalist for the 2015 Next Generation Indie Book Awards. Her other 2105 book, Visibility: Ten Miles, a Prairie Memoir in Photography and Poetry was a finalist for the Midwest Book Awards. She lives in the Twin Cities and has never eaten at a McDonald's.