A Lost Cause, A Hope, A Prisoner
She's
a lost cause, a hope, a prisoner
of her own heart, a time that once
remained innocent, a run through
the field among
the wildflowers. an acid trip
in San Francisco in 1967, a stroll through death
and a dance in the old ballroom by the docks, a time
forgotten but beloved by the wild-eyed children, a moon that never
lasts, a trip to the blue ocean, a razor that cuts her
wrists and throat, a laugh in an empty schoolhouse, a suicide,
a mad dance on the sun, a desert highway to nowhere, a tree
that grows in her soul, a flower that blooms in the dark
where the light can get in, a sun on a horizon, an embrace that is only a dream, a lullaby for the nymphs around the fire, a strange meeting
in an empty park, a night that never ends, a new way
of loving the wrong way, a diseased dog waiting to kill Poe,
an oven for Plath, an affair with the secretary, a war inside her head, another
dead kid floating down the river, a hollow shell, a lost map
to her past, a chance she never took, a path that leads to a pretty hell,
an insanity that seems perfect, a conversation about murder and coffee,
a dust filled attic of regret, a little black dress called madness,
a feeling that never lasts, a car rusted in a junkyard, a chance at love, throwing it away, a bird in a golden cage, a small note tucked in a book on a rainy day, a pressed flower between Frost and Whitman, a tomorrow that never comes, a day gone, a hope that glows but fades away, a lonely night in a diner, a cigarette that burns for him, a man that keeps her all for himself, the freedom to kill yourself, a bottle of pills, red wine, self-inflicted wound, songs of love and death, open fields with no stop signs, a little sister, an older sister, a wife, an ex-wife, a divorce, an uphill battle, the Jersey turnpike, a witch, if she floats; she burns, skipping like
a stone on the black water, a tongue cut out, the fire burning, the Druids
satisfied, a perfect sacrifice, a blood oath, decreed by the gods, a morning on the trash beach, a symphony that plays for those that came for the music,
a city on fire, 1978 at the fried chicken shack, her ghost that walks along the highway, the only thing she needs, love, love, love, her favorite song
on repeat.
• • •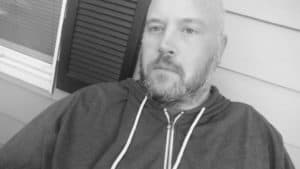 Thom Young is a writer from Texas. His last poetry collection, A Little Black Dress Called Madness hit #1 Poetry in Germany. He is a 2017 Pushcart Prize nominee and his work appears in over a hundred literary journals.