Invocation
Then the book of feathers on your coffee table took flight.
On mine it was a different story. How did I not know
that Audubon killed the birds before he painted them?
No human law was broken when he did so.
But your book is the Bird of Frankenstein.
An illegal assemblage of molted feathers sewn
into a binding soft as a living thing.
And when my mother's last breath left her body,
far across the country, you lit a candle,
as you said you would.
Then your strange bird book fell open,
and the woven feathers
of crow and blue jay,
nuthatch and hawk,
eagle and killdeer,
raven and wren
rose into wings and carried her into the night.
• • •
Foreclosing on the Garden
My perennials are hardest to give up.
On the patio slab I fold
myself into my folding chair.
The raspberry bush lurches over the fence.
Blind tendrils duck in the breeze
groping towards soil, insinuating roots –
thorny canopy shading
my brown-eyed susans.
After I put down the pavers
my son would hop from stone
to stone, harvesting dessert
from the family plot.
Inside on the living room floor
I have marked with masking tape
my storage unit, ten by six.
I have stacked
furniture and boxes
like Jenga blocks.
My muscles ache.
My legs are heavy
as sandbags.
I've forgotten the name
of one plant: fuzzy purple stem,
leaves like cocktail napkins
splayed in triangular points,
the flower a rocketing phallus.
Though I cannot forget
Chanda the church lady
from whose improbable yard
it sprung forth.
The geraniums are rangy;
they slop themselves into the clover.
there is clover everywhere
there is nothing. The phlox bows down,
obedient, beaten and tame.
Perhaps it will get to remain.
I listen to the electric hum of cicadas –
rising, alarmed, relaxed.
Flies buzz holes in the screen door.
All sounds seem louder today
except my own heartbeat.
When I lift up a paving stone
blind earthworms twist
from the light. I lower the stone
back onto the path I made
bless all burrowing
rooting life I must darken
the brightness to see.
• • •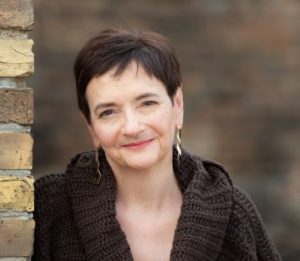 Paula Reed Nancarrow is a poet and storyteller living in Minneapolis and currently working in nonprofit development. She has performed in the Minnesota Fringe Festival and the Moth Grand Slam at the Fitzgerald Theater in St. Paul. Her poetry has been published in Bluepepper, Neologism, and Tiny Seed, with work forthcoming in Sixfold, Lyricality, and Bearings Online.